Finally, a good use for Photo Radar.
For two years a forty year-old Polish man was siphoning electrical power from a speed camera near his house in Mragowo, a town north of Warsaw. Piotr W. tapped into the ticket camera using an extension cord buried two feet underground in December of 2007. Seems he was powering his neighbor, also.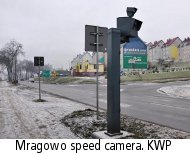 Cops tumbled to the theft when unusually high electricity bills were noticed. An officer sent to investigate discovered the buried cable and followed it right to Piotr's home.
--Two years of high electricity bills! My wife would have been all over that the first month--
Piotr and girlfriend have to pay a fine and re-imburse the city for $1,200 worth of juice. They'll avoid jail time. It is not mentioned what became of the neighbors.
Read the article at The Newspaper: Polish Underground